The Royal Tree-tment...

Cleopatra isn't the only sovereign with a barge. Above is a 42,000 lb, 50' wide Green Buttonwood tree enjoying a cruise down the Intracoastal from its former North End home. Because you see, in Palm Beach, the trees are king.
​​​​​​​
When every season is growing season, flora will flourish. Any green shoot that grazes the ground here seems to become a sapling overnight and it's best to keep a watchful eye on the jungle. Since 1973, in cahoots with the all-powerful Garden Club, Palm Beach has maintained an Historic and Specimen Tree List. What started out as a list of 85 trees worth protecting has grown to 106 remarkable trees and the Green Buttonwood is on the list. So when a developer broached the idea of developing the property surrounding it, the town simply sent him "The Ordinance." Next thing you knew, the buttonwood was making sail for its new home in the Garden Club's innovative new Tidal Garden. A $50,000 love boat note to Palm Beach. Worth it? Well, one observer said the gnarly old buttonwood looks like "the place where Merlin was born." What price a wizard's tree?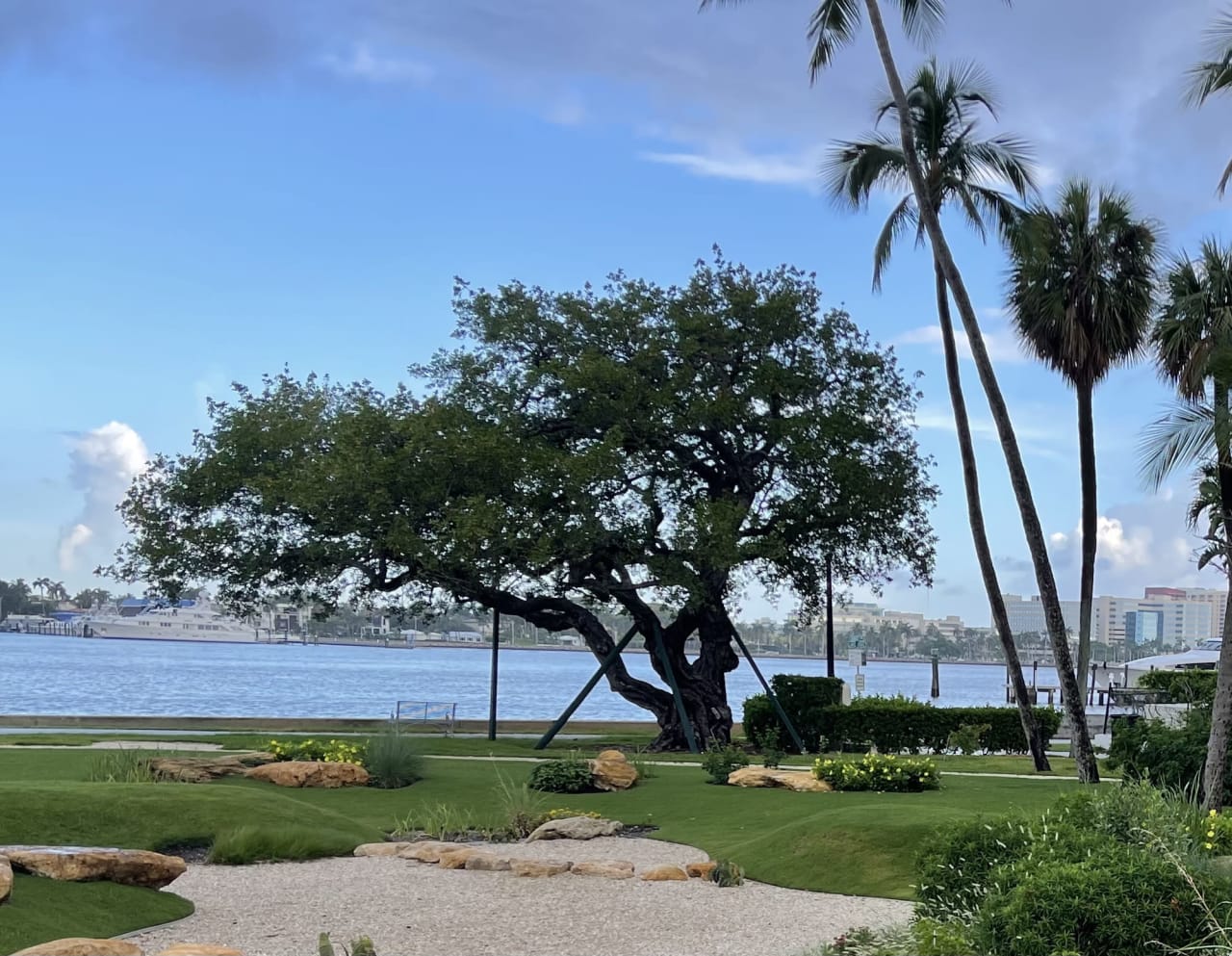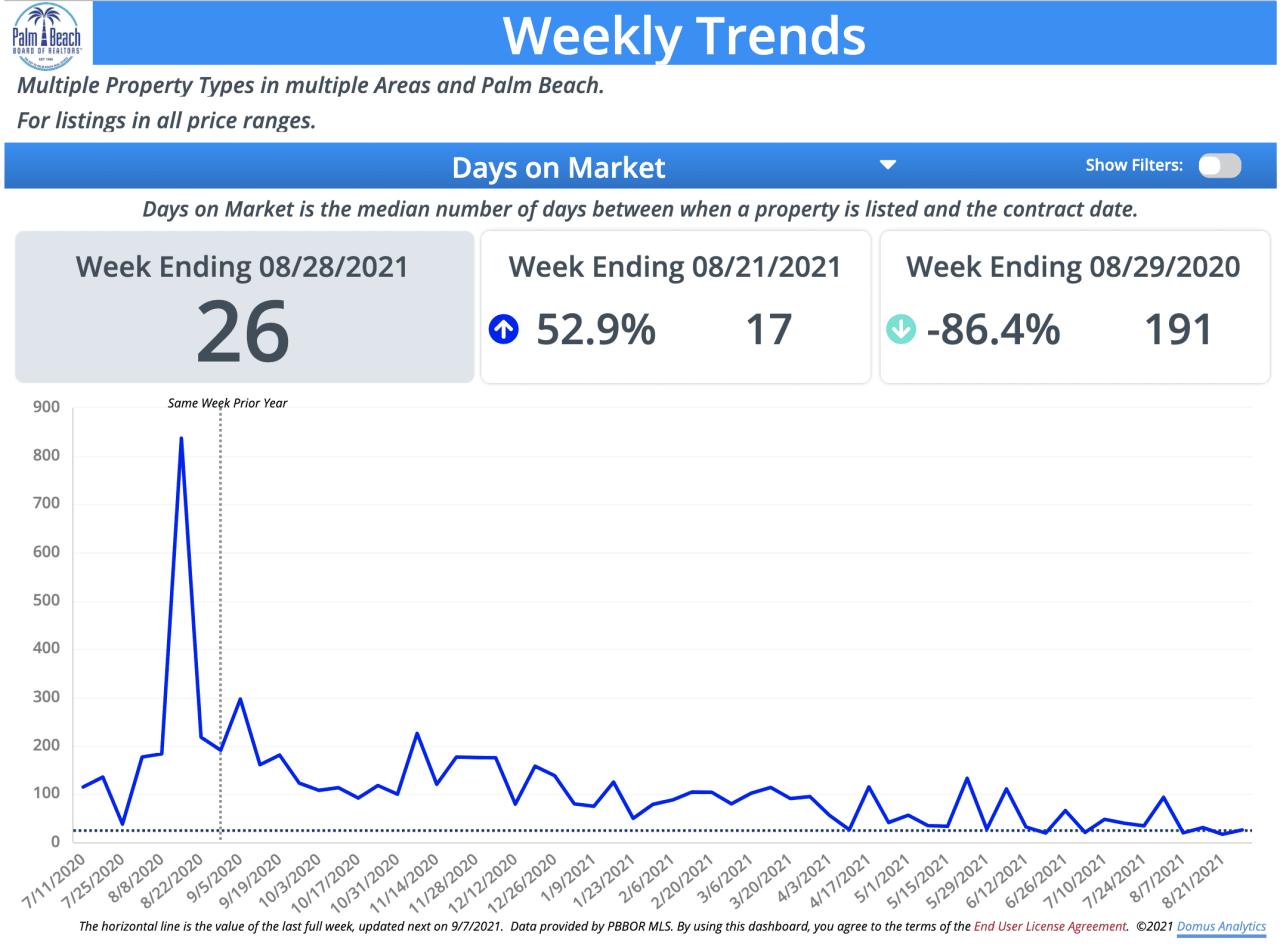 Market Color: The Quick and the Dead

There's an old Wall Street aphorism that there are only two kinds of people in this world– the quick and the dead.
While that's indisputably true in the more Shakespearean sense of the word "quick," Wall Streeters typically employ the phrase as a verbal cattle prod on the indecisive– act now!! Well, as evidenced by the chart above, we think we've reached the "quick or dead" phase of our current real estate frenzy. At the end of August the average was just 17 days on the market before a new listing went to contract. That's not just a Palm Beach phenomenon of course, the newspapers are full of stories about lines of eager homeowners outside open houses.
But here in Palm Beach the statistic is a tad misleading. Our little world is an intimate one, there are few secrets and as a property gets readied for market, word will often get around, buyers will get an early look and next thing you know, the home lists and sells the same day. That will really tend to drive down your Days on Market numbers!
We've said this before, but if you're in the market for a home be sure we know what you're looking for. As evidenced by the lengthy list of homes we've sold recently it is not by any means a dead market, just a tricky one.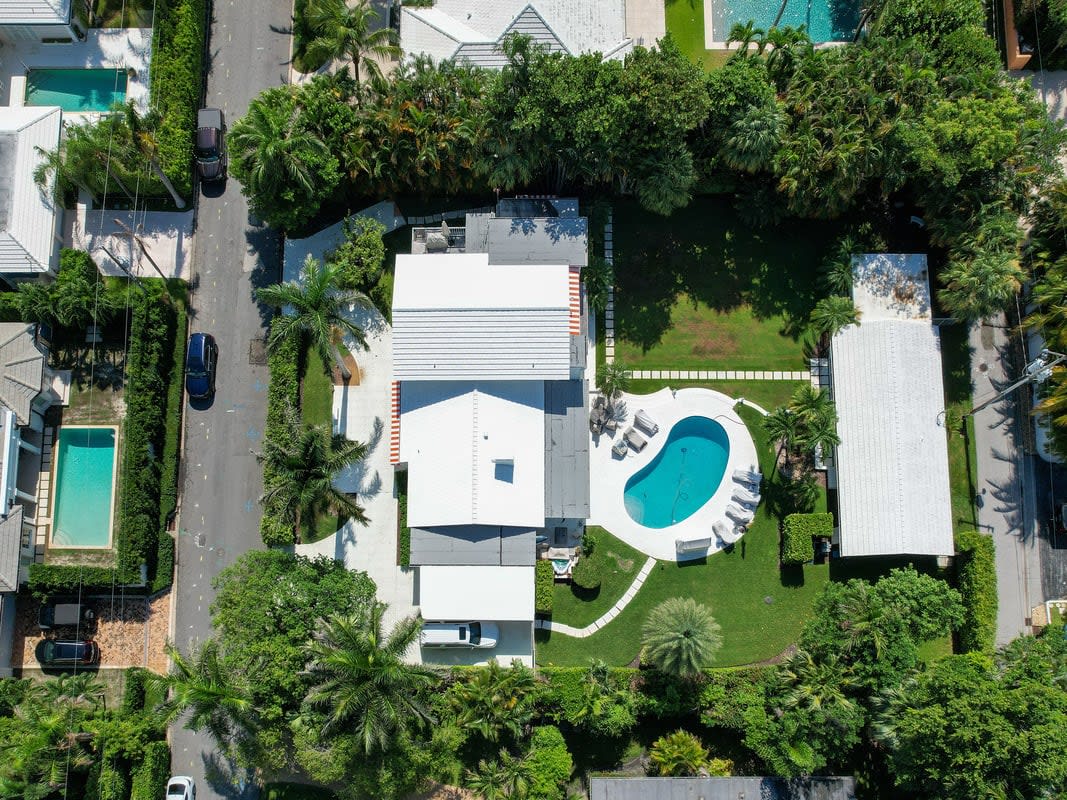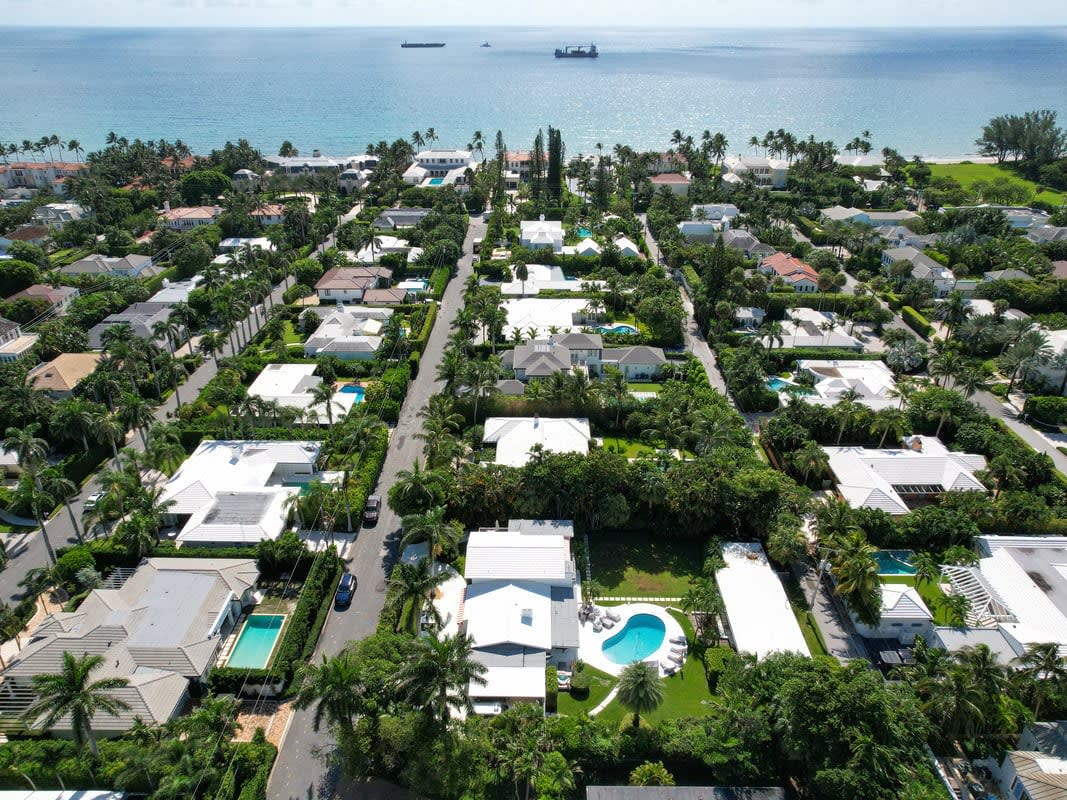 A big, beautiful North End property for anyone looking to build new or renovate. Lot is just under 1/2 acre at 20,592 sqft. (125' wide x 165' deep). Via Marila is one of the few north end streets with deeded beach access at one end of the block and Lake Trail access at the other. Main house is 1950 cement block construction with 6 bedrooms, 4.5 baths and 3,700 sqft under air. The Guest house/Garage sits on the Laurian Lane alleyway– it has 2 bedrooms, 2 baths, living room, kitchen, one car garage and 1,050 sqft under air. AC is new as of 2020, cement tile roof is 2014. The house is a rambling, comfortable family home that offers a buyer a variety of options. Live there, lease it, renovate or build new.

​​​​​​​
*Under Contract–Our Buyer*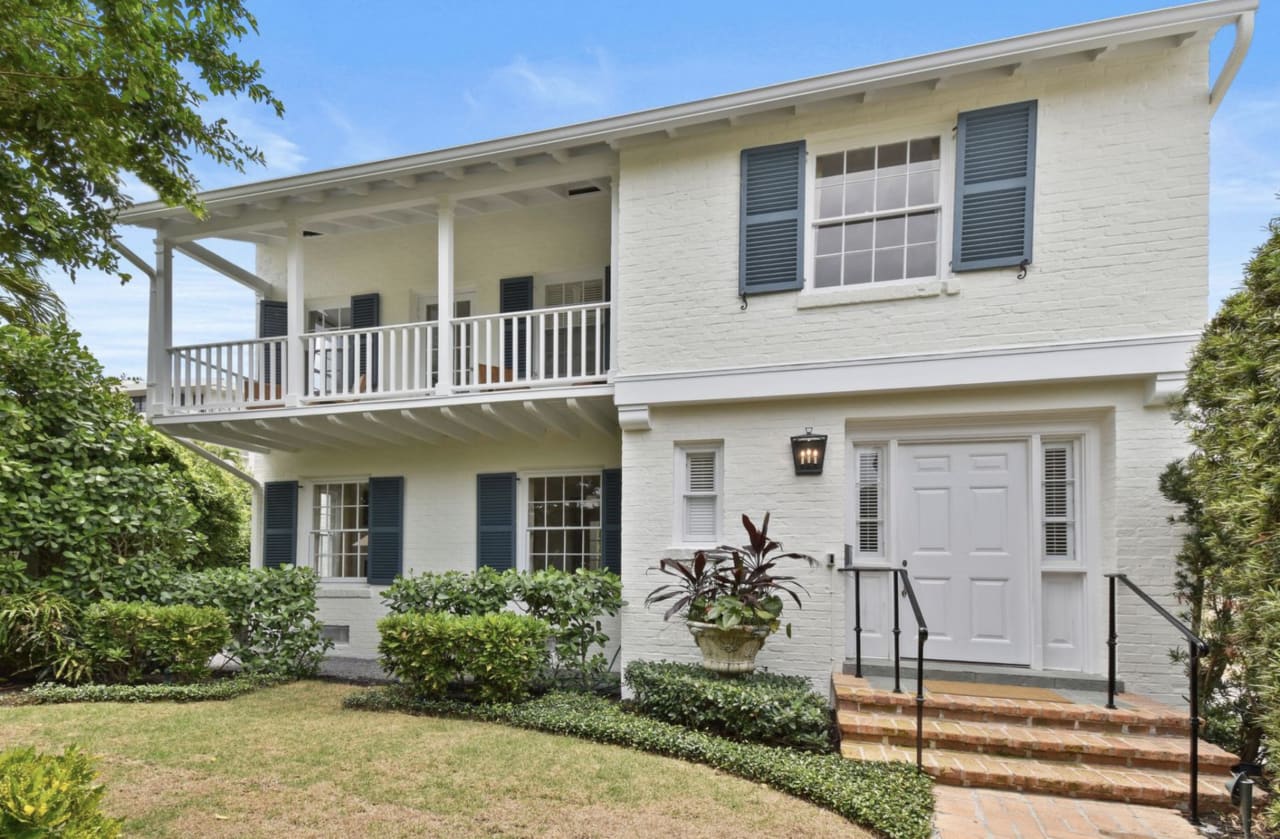 is a classic Palm Beach Monterrey style home just steps from the ocean and the town beach. Designed by the firm of Treanor and Fatio in 1939, the property has 3 bedrooms/3.5 baths in the main house and another bedroom and bath guest suite above a one car garage. Built before air conditioning, every room has windows on two sides to catch the sea breezes and the light is nothing short of magical.
Listed at $6.25m
*Under Contract – Our Listing*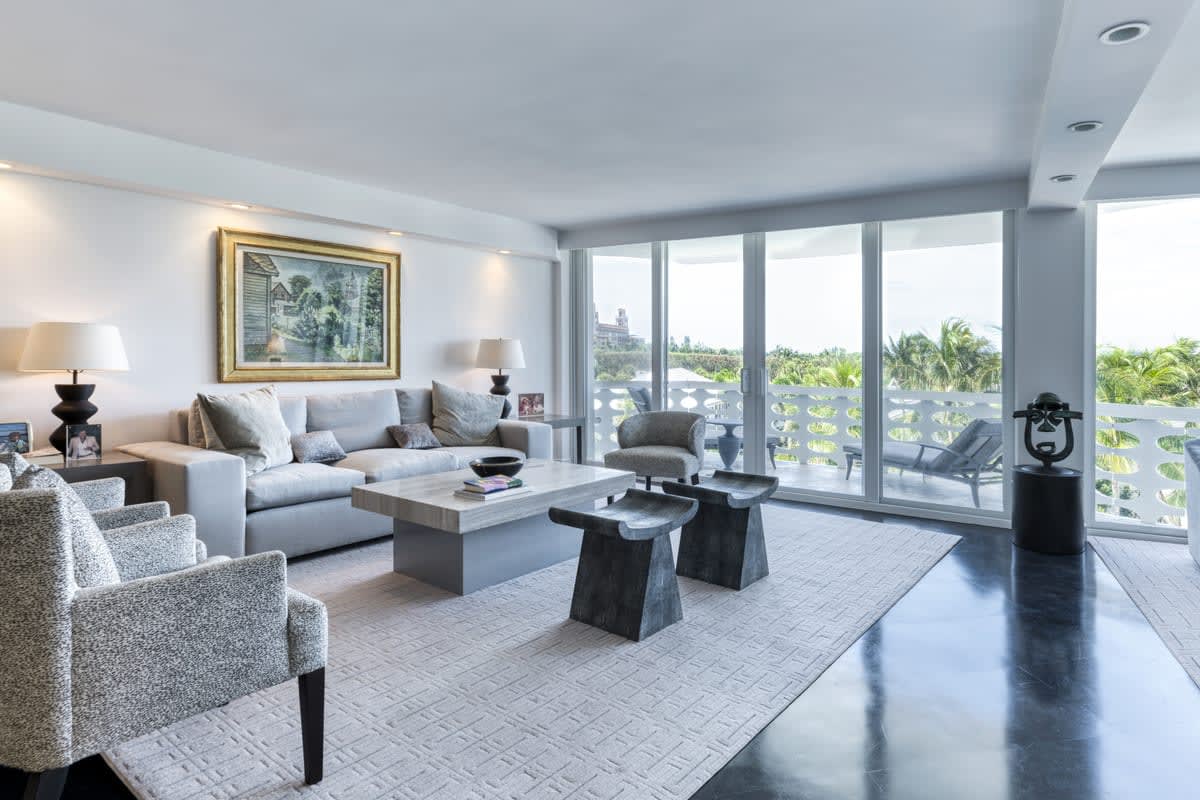 A rare find. A completely renovated apartment in Sun and Surf with sunny southern views across the pool and treetops to the Breakers. This light and bright apartment was originally two bedrooms that was converted to one. Second bedroom could easily be restored. Kitchen is fresh and new along with two fully redone baths and a powder room. New floors and lighting, motorized shades at all windows. Being sold with all furnishings and curtains with exception of owner's artwork. Sun and Surf is one of the finest buildings in Palm Beach, impeccably maintained with services and security at the highest level. Two pools, multiple fitness options and the best beach accommodations in town.
​​​​​​​


*Sold - Our Buyer*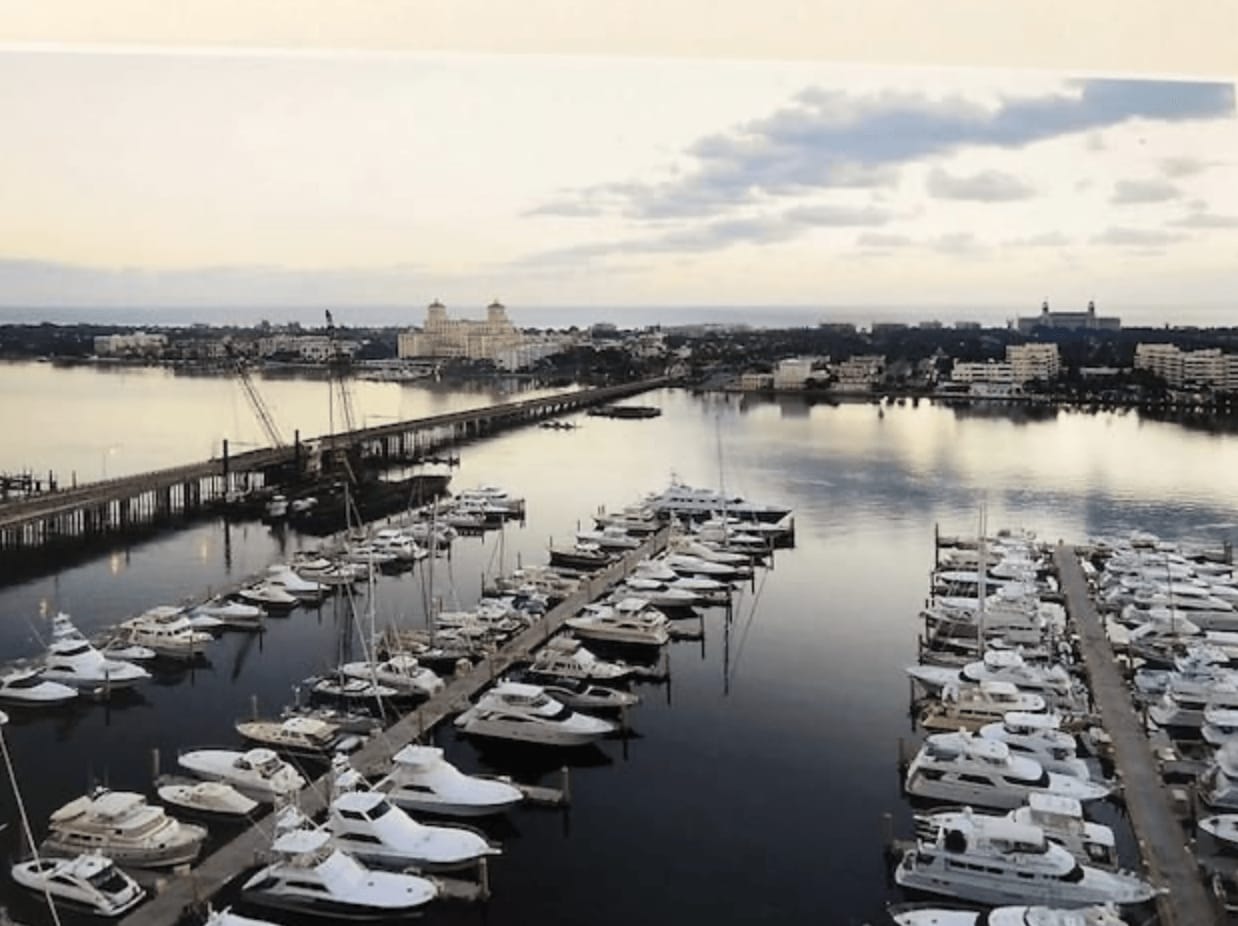 overlooking the Intracoastal in West Palm Beach. A high floor, full renovation opportunity in a terrific building. Two bedrooms/two baths, 1,800 square feet, west-facing balconies off both bedrooms. Waterview Towers has 24 hour doormen, a full time concierge, tennis and pickleball and, as the name implies, water views to die for.
Listed at $1.395m
*Under Contract-Our Buyer* West Palm Beach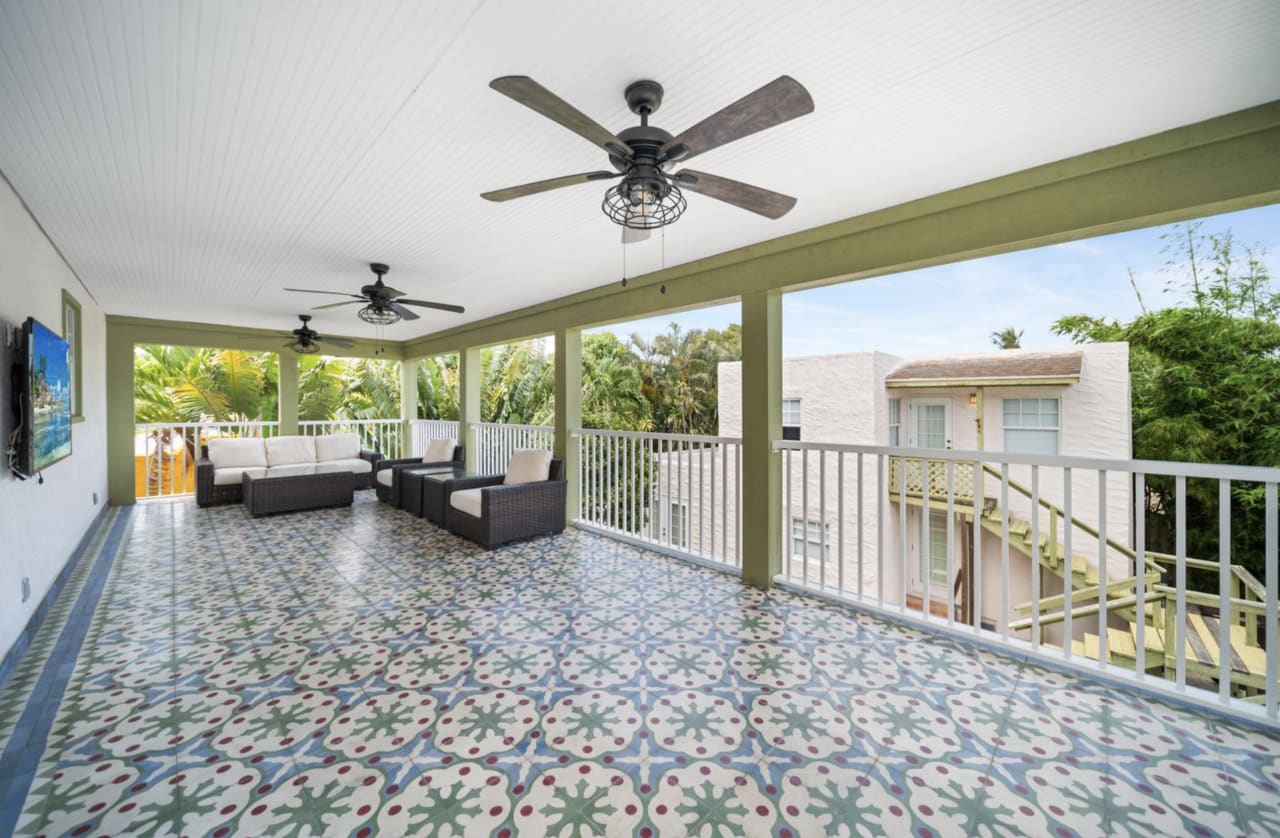 in family-friendly SoSo (South of Souther Blvd) in West Palm Beach. Three bedroom main house with two bedroom guest house on a quiet block in the Belair section of SoSo. Home is a 1926 Spanish Revival design with almost 3,000 sqft under AC. The beautiful tiled veranda off the second floor says it all.
Listed at $1.2m
*Under Contract–Our Buyer* North Palm Beach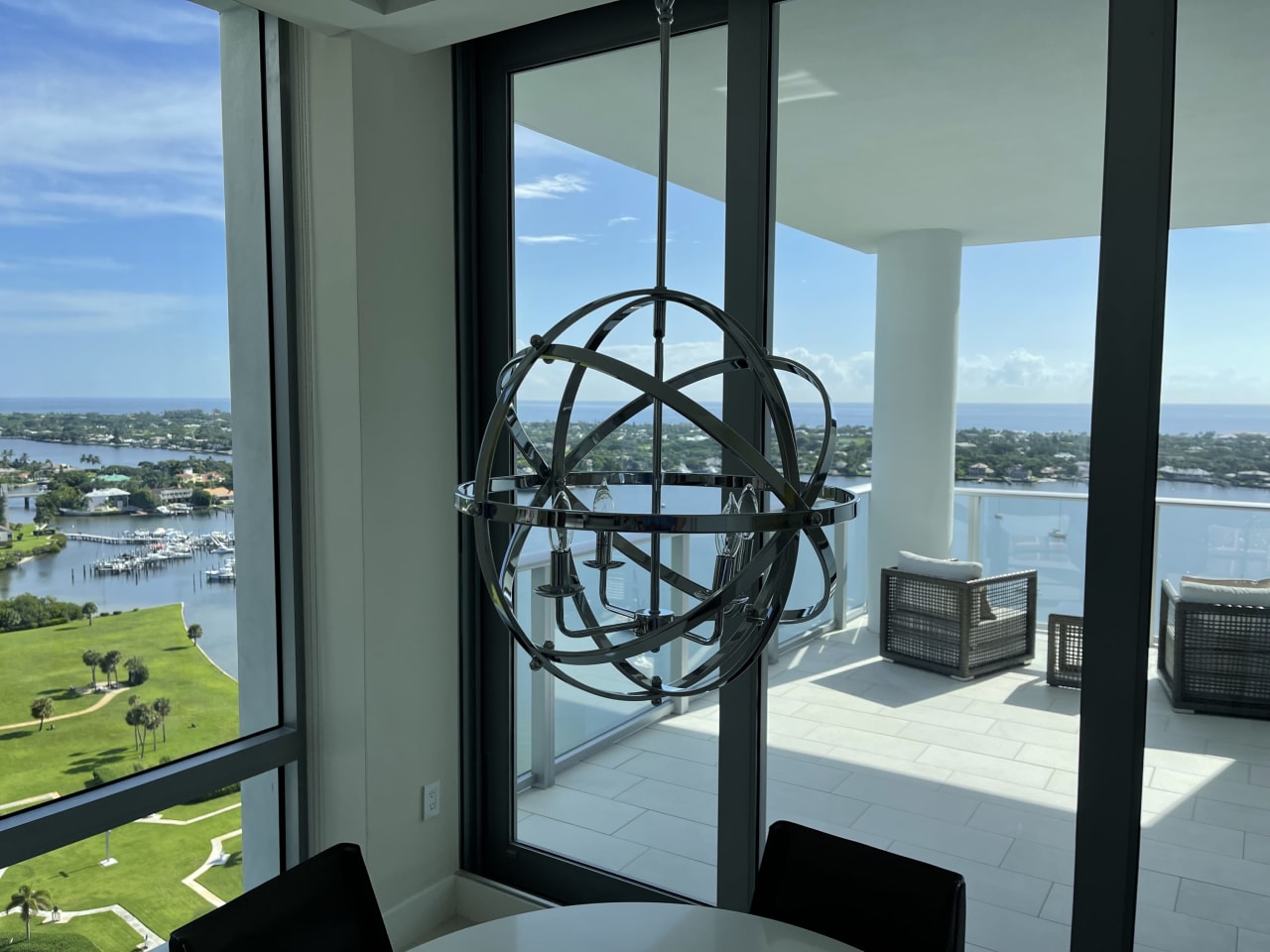 is on the 22nd floor of a recently built tower in North Palm Beach overlooking the Intracoastal, the Lost Tree Club, the MacArthur Beach State Park, and of course, the blue Atlantic. Three bedrooms, three baths and 2,300 sqft in Water Club which has an incredible list of amenities like an enormous fitness center, lap pool, boat docs and beachside firepits. All 20 minutes from Worth Avenue and PBI.
Listed at $2.95m
*Sold - Our Buyer*
Not everything in Palm Beach costs a gazillion dollars. This beautifully renovated big one-bedroom apartment has an open kitchen floorplan and a beautiful terrace with views out over the ocean. All of nine stories high, Harbour House is the tallest building in Palm Beach and its got a great mix of one and two bedroom units along with a new fitness center, and tennis and pool right on the beach front.
Listed at $425k
*SOLD– Our Listing* -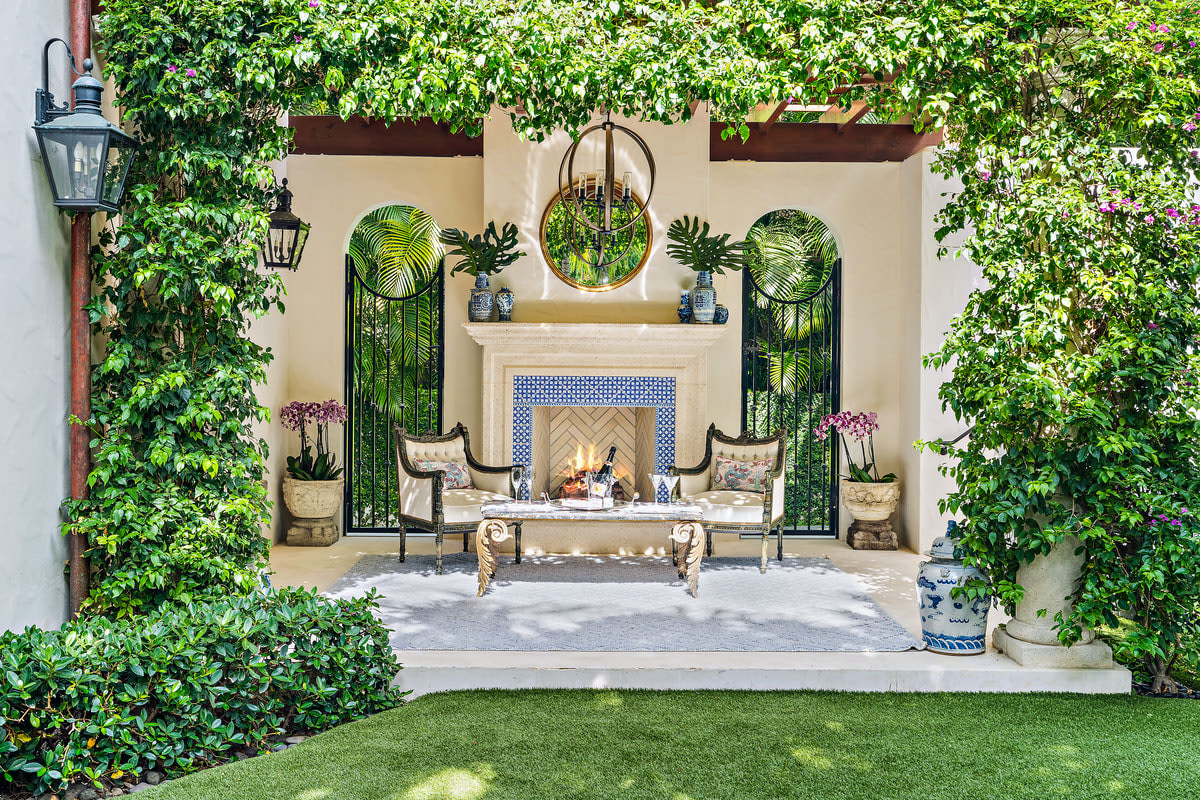 ***Under Contract*** Our Listing. Pure Elegance. In-town living. This 2016 Pat Segraves designed home is the perfect spot for enjoying Palm Beach to the fullest. Walk to Worth, the Four Arts, the beach and Town Docks. The Lake Trail and the new Nievera Williams landscaped park along the intracoastal are literally steps away. Two bedrooms plus study upstairs and a beautiful guest suite above the two-car garage. Elevator, full-house generator and an inviting salt water pool. Move right in. There's nothing missing!
Shameless Self-Promotion Part II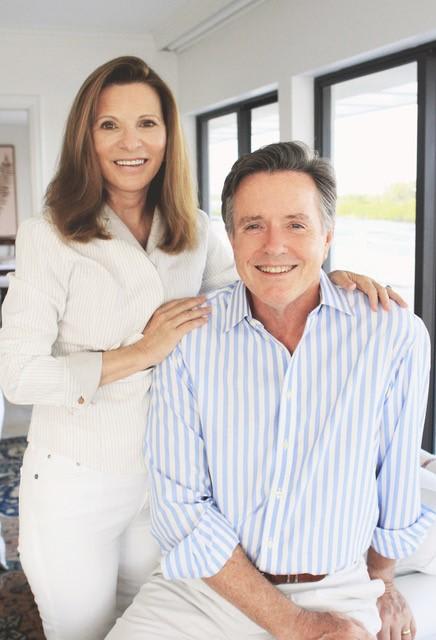 ​​​​​​​Lisa and John Cregan
Senior Global Real Estate Advisors
SL3439962
Sotheby's International Realty
340 Royal Poinciana Way Ste M314 Palm Beach FL 33480
(561) 659-3555 |